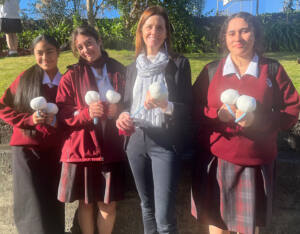 WelCom September 2023
Sacred Heart College Napier principal Maria Neville-Foster has headed back to her homeland of Ireland for a sabbatical, through the Ministry of Education.
Mrs Neville-Foster plans to visit a cross-section of schools, as well as reconnecting with her Irish culture and family, all of whom remain in Ireland.
'It's been four years since I've been home and that's the longest period of time I've ever been disconnected from my family and from my homeland,' she said.
Prior to immigrating to New Zealand in 2006, Mrs Neville-Foster taught science and chemistry at Hazelwood College in Ireland for two years.
During her time in Ireland, she will visit several schools including Hazelwood College, and her alma mater, Crescent College Comprehensive sj, formerly the College of the Sacred Heart, to learn about what they're seeing as a result of four years of Covid-19.
'As principals, we have been working our way through the pandemic over the last three to four years and I think it would be naive of us to think there isn't going to be effects. And so therefore, it makes sense to ask questions in a country that, the whole way through, has been at least six, if not 12 months ahead of us in terms of the trajectory of the pandemic.
'I'll also be talking to the principals about what they see are the key skills required in a leader, to develop my own leadership.'
She will also visit Luttrellstown Community College in Dublin and Príomhoide (principal) Siobhán Moran, who sent a care package to Sacred Heart College in the aftermath of Cyclone Gabrielle in February.
'We had a package arrive at the school from the equivalent of Year 9 students in her school. Siobhán had told them what had happened in New Zealand, and they'd written all these beautiful cards and sent a whole load of Irish sweets to give to our students here.
'I presented them to some of our Year 9 classes, and they wrote cards back and sent pineapple lumps and some iconic New Zealand lollies for the kids in Ireland.'
Sacred Heart's Year 9 Te Reo class has made poi, which Mrs Neville-Foster will present to the college, and teach the students how to use it.
While she will miss her students and staff, Mrs Neville-Foster says they will be in good hands while she is away, with deputy principal Marysia Airey stepping into the role of acting principal.
The post Sabbatical to Ireland for Sacred Heart College principal first appeared on Archdiocese of Wellington.