Bishop Owen still contributes significantly, in his retirement, to the life and mission of the diocese. Further information on his Crest and Biography can be found below.
Bishop Owen can be contacted by email [email protected] or by phone 06-359 4942
Bishop Owen's Crest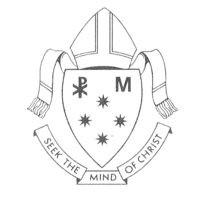 The ChiRho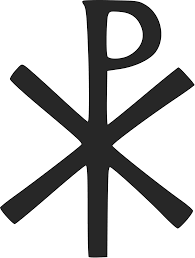 is formed by superimposing the first two Greek capital letters chi and rho in such a way to produce the monogram to the left of the Crest, and the M is for Mary. These are traditional symbols for Jesus and Mary. The stars remind us of the Southern Cross and Bishop Owen's motto is taken from St Paul's letter to the Philippans 2:5: "Let that mind be in you which was in Christ Jesus".
Bishop Owen recalls that this text was often referred to by the Scripture Professor of Holy Cross College seminary,  Fr Ronald Cox, C.M. when he was a student there. The revered Prof sought to lead his students into an ever closer relationship with Jesus Christ.
Email contact:  [email protected]
Biography
Born in Palmerston North, 30 September 1928.
Educated at St Joseph's Primary School, Hawera, St Patrick's College, Silverstream, Hawera High School, Hawera, Holy Cross College, Mosgiel.
Ordained at Hawera on 21 July 1954.
Appointments since ordination in NZ: Sacred Heart Parish, Petone 1955-59, St Peter's Parish, Wairoa 1960-61, St Patrick's Parish, Patea 1962-63, St Joseph's Parish, New Plymouth 1964, Sacred Heart Parish, Inglewood 1965, Our Lady, Help of Christians, Fitzroy (New Plymouth) 1966, St Brigid's Parish, Feilding 1967, St Joseph's Parish, Upper Hutt 1968, St Joseph's Parish, Waitara 1970-72.
In 1973 Bishop Owen went to serve as a missionary in Peru where he remained until 1978. His appointments to Lima and Arequipa working alongside Columban Fathers and the Maryknoll Fathers made a profound impact on him, shaping his priestly life ever since.
Appointments upon return from Peru: St Francis Xavier, Stokes Valley 1978-80, St Joseph's Parish, Wellington 1981-90, Vicar General of the Archdiocese of Wellington 1981-1990, National Director, Pontifical Mission Societies 1991-96.
Ordained as Coadjutor Bishop for Palmerston North at Cathedral of the Holy Spirit, Palmerston North, 10 December 1995.
Episcopal Deputy for: Caritas Aotearoa-New Zealand, Hospital Chaplaincy, Refugees and Migrants, Gender Issues.
Emeritus Coadjutor Bishop commencing 30 September 2004