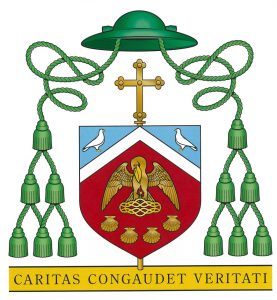 The armorial bearings of Bishop Charles include:
a galero or ecclesiastical hat with six green tassels on either side of the shield, the mark of a Catholic Bishop;
a processional cross of one who is a Bishop;
two white doves taken from the Page family coat of arms which can symbolize the Holy Spirit, peace or freedom;
a chevron which evokes Taranaki, Ruapehu, Tararua and Whakapunake – mountains that adorn the diocese of Palmerston North and in Maori mythology speak of shelter, sustenance and beauty;
a pelican, ready to feed its young with its own blood, which in Christian art is a symbol both of the Passion of Jesus laying down his life for humanity and the Eucharist;
scallop shells, found on the shield of His Holiness Pope Benedict XVI, which are used to contain the water poured on one to be baptized.
The four shells placed beneath the pelican replace the usual feeding cygnets.  They represent the baptized and those yet to be baptized in all the regions of the Diocese – Taranaki, Whanganui, Manawatu and Hawkes Bay.
Bishop Charles' motto caritas congaudet veritati  (love delights in the truth) is taken from the First Letter of St Paul to the Corinthians, chapter 13.  Saint Paul's insight can be considered the kernel of Blessed Antonio Rosmini's (founder of the Institute of Charity to which Bishop Charles belongs as an Ascribed member) entire contribution to the dialogue between faith and reason.  It also stands at the heart of the 'new evangelization' in which all the baptized of Aotearoa-New Zealand are called to participate as we further the mission of the universal Church in our own secular society.