Message to the Māori People from His Holiness John Paul II on the occasion of his visit to Aotearoa New Zealand in November 1986: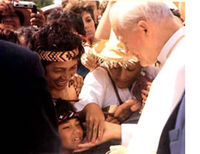 The Church here is young. It is less than two centuries since the Good News of Jesus was first preached in these three islands. Yet the Catholic faith has been quick to take root and flourish, enriched as it is by a variety of cultures from many parts of the world. Each of these traditions has brought special gifts: none has come empty handed.
A rich culture already existed in your country before the arrival of the Church or many immigrants: the culture of the Māori people. This culture has in turn been strengthened by the uplifting and purifying power of the Gospel.
I wish to extend special greetings to you, the Māori people of Aotearoa, and to thank you for your cordial ceremonial welcome. The strengths of Māori culture are often the very values which modern society is in danger of losing: an acknowledgement of the spiritual dimension of every aspect of life; a profound reverence for nature and the environment; a sense of community assuring every individual that he or she belongs; loyalty to family and a great willingness to share; an acceptance of death as part of life and a capacity to grieve and mourn the dead in a human way.
As you rightly treasure your culture, let the Gospel of Christ continue to penetrate and permeate it, confirming your sense of identity as a unique part of God's household.
It is as Māori that the Lord calls you; it is as Māori that you belong to the Church, the one body of Christ.