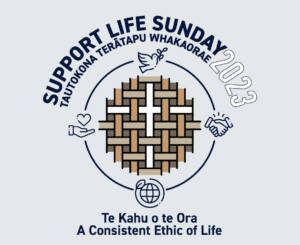 WelCom September 2023
Dr John Kleinsman
In 1983, six months after the US Bishops landmark letter, 'The Challenge of Peace', addressing the dangers of the nuclear age, Cardinal Bernardin of Chicago gave a famous lecture titled 'A Consistent Ethic of Life'. In this lecture, Bernardin reflected specifically on the way the peace letter linked the issues of abortion and nuclear warfare – something that, at the time, was both unique and controversial.
The idea of different moral issues being interconnected was taken up by our New Zealand bishops in 1997 when they published their own document on a consistent ethic of life. In that statement, titled Te Kahu o te Ora, the bishops explain that kahu was to the Māori a cape or garment, but that it also referred to the membrane enveloping a foetus. This inspired their choice of title, aptly translated as The Garment of Life – a clear link to Bernardin's reference to the 'seamless garment' of Jesus, which he used to explain his approach.
Twenty-six years on, much has changed regarding the environmental, political, technological, social and cultural context we live in. Nevertheless, the idea of a consistent approach to life – seeking the connections between the different moral issues we face – is as relevant as ever, especially at this time of reckoning for the Church as it deals with its own inconsistencies.
Thus, the bishops have commissioned a review of the 1997 document and will be re-issuing it on Support Life Sunday 2023 – 8 October.
As with previous years, the bishops' agency, the Nathaniel Centre for Bioethics, has been asked to work with the dioceses and the National Liturgy Office to develop messaging and liturgical materials around the theme of a consistent ethic of life. These will shortly be sent out to every Catholic parish and school.
John Kleinsman PhD is Kaitohu/Director, The Nathaniel Centre for Bioethics.
The post Support Life Sunday 2023 – 'A Consistent Ethic of Life' first appeared on Archdiocese of Wellington.