WelCom May 2023
When Cyclone Gabrielle's devastating floods tore through properties and homes across many parts of the North Island on 14 February, thousands of people were left homeless or with badly-damaged houses and properties, and ruined personal possessions. Among the most treasured but damaged personal items for some were their precious family Bibles, which had been passed down through generations. Within days a number of people were in contact with Bill Tito, master craftsman and book-repair specialist, asking for his help to mend and restore their rescued but near-ruined Bibles.
Bill, a former student of Hato Pāora Maori Boy's College, who has been repairing and restoring books and other prised papers for 50 years, set about with his meticulous attention to detail and craftsmanship, to carefully transform the Bibles back to their original and beautiful condition to the delight of their owners.
Bill Tito: master craftsman and book repair specialist
Annette Scullion
Bill Tito has been repairing books, Bibles, certificates, postcard collections and other paper-based treasures for 50 years. Working from his home studio, overlooking the bush-clad hills of Akatarawa Valley in the Tararua Ranges north of Upper Hutt, Bill says there isn't a day he doesn't want to go to work.
'Never in my life have I not wanted to go down to the studio every day,' he says, 'even if only for couple of hours.'
He says not many people do what he does, 'repair and transform valued and special books'.
Bill's specialised craft requires intense focus and attention to detail. He takes on documents that are hundreds of years old, dilapidated Bibles with historical documents and personal family items between the pages, and prized but damaged books and makes them all readable and beautiful again.
'One guy drove down from the Hawke's Bay the day after the floods in February with his family's Bible to be repaired and I have been able to restore it.
The work can take days, weeks or even months. The process involves drying, dismantling, sewing, puncturing, taping, cornering and polishing. No problem is too big. Bill tackles and repairs moulded pages, broken spines and ripped and tattered leaves.
'In fact the worse the better,' he says. 'If I can't sort something out, I go away, have a think about it and begin again the next day.
'I know I'm giving a lot of pleasure to people when I see their reactions. Just like on The Repair Shop on TV, people cry and are delighted. It's what I do.'
Bill attended Hato Pāro Catholic Māori Boys' College in the late 1950s and early 1960s, following in the footsteps of his two older brothers Maurice and Nat. 'For almost 10 years, one of the brothers in our family was at Hato Pāora,' he says.
It wasn't until Bill attended the Hato Pāora College reunion last year that he learned Maurice had been head prefect and captain of the first XV rugby team. 'I saw his name up on the honours board.' His other brother Nat went into the SAS after leaving Hato Pāora – one of only two students from the college to have done so thinks Bill.
'I'm very proud of my brothers and what they have accomplished.'
Growing up in Ōpunake, on the west coast of Taranaki, Bills says his family's household was 'filled with food and love'.
In his later adult years, Bill was diagnosed with dyslexia, which had made learning for him at school difficult. In 1963 his father got him an apprenticeship as a book binder with the Government. His parents drove him down to Wellington to begin his job. 'But the day I started work, Queen Elizabeth II was visiting, so I go the day off,' he says.
Bill worked at Parliament Buildings for his first year, then got seconded to Government Print. But he says the noise was terrible and realised he didn't want to work with machines.
'Working here in my studio the only noise I hear is the birds.'
Bill says he's always busy and has never not had work.
Not one for social or digital media, he doesn't have a cell phone and says he doesn't know what Facebook is. His work speaks for itself and his business grows through word of mouth from satisfied and delighted customers.
'People care about what I do. I had a card recently saying, "Thank you very much for doing such a beautiful job."
'I'm not important' Bill says, 'but what I do is. It's a very pleasant job – getting pieces put back together for customers.'
You can contact Bill on (04) 526-6977.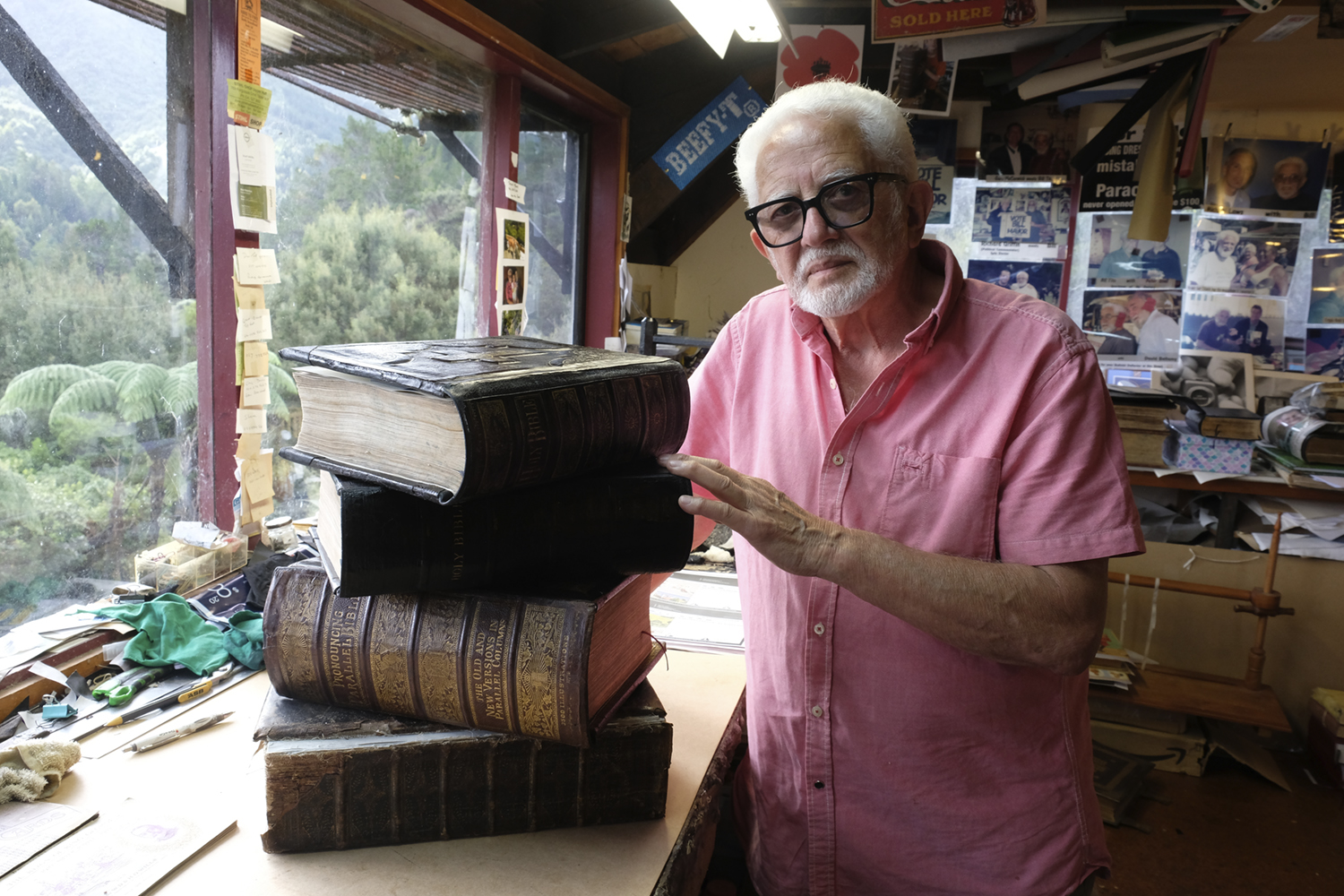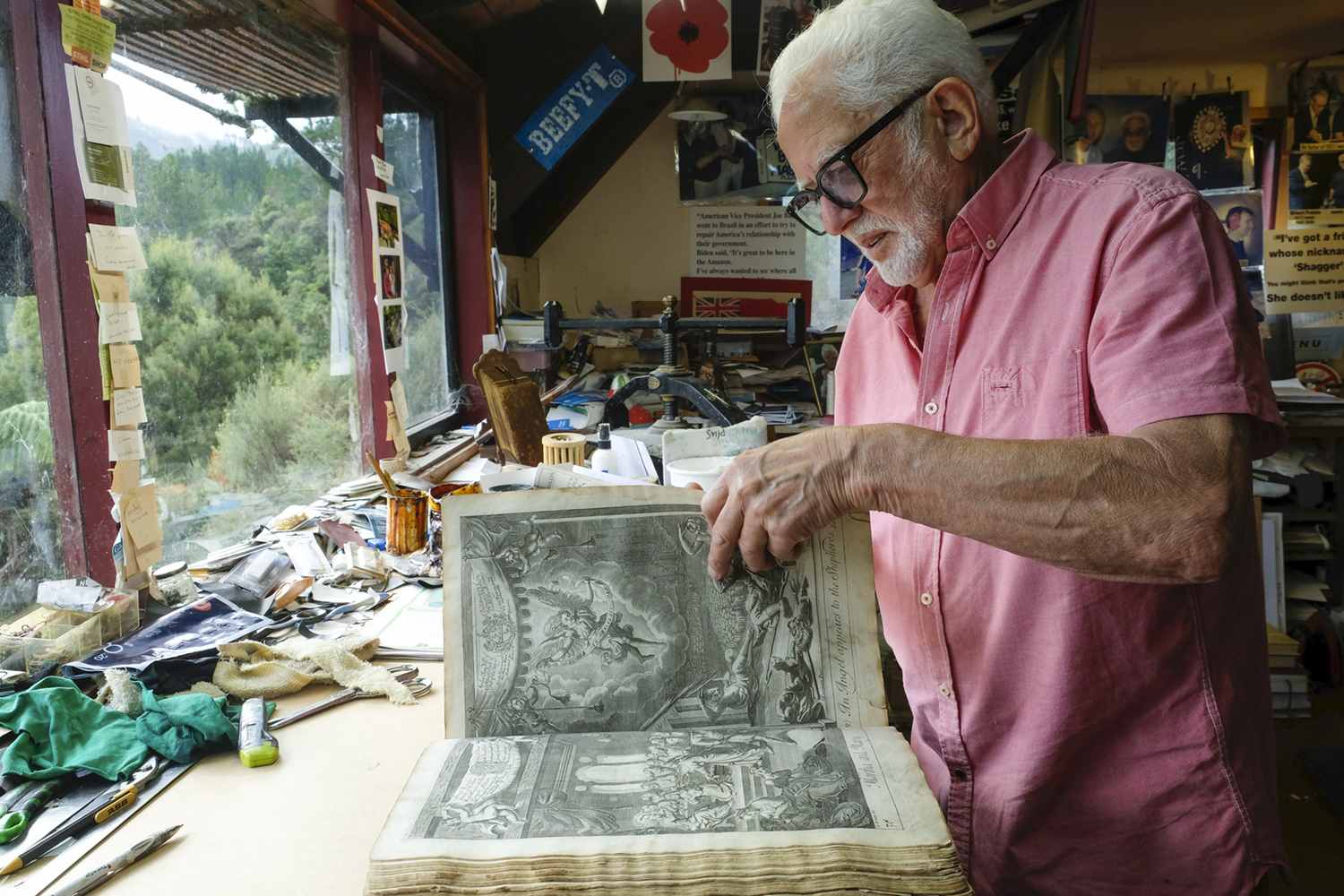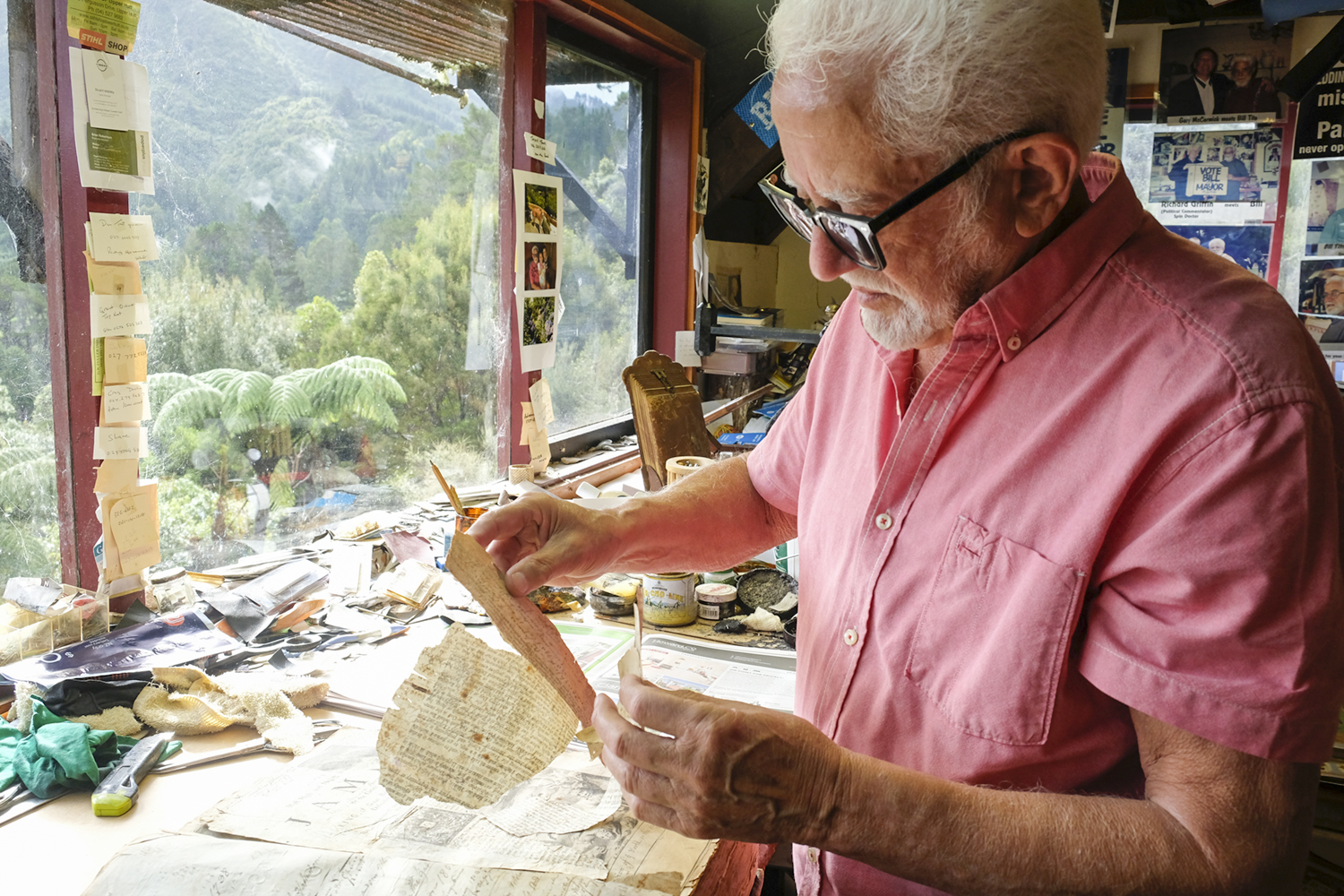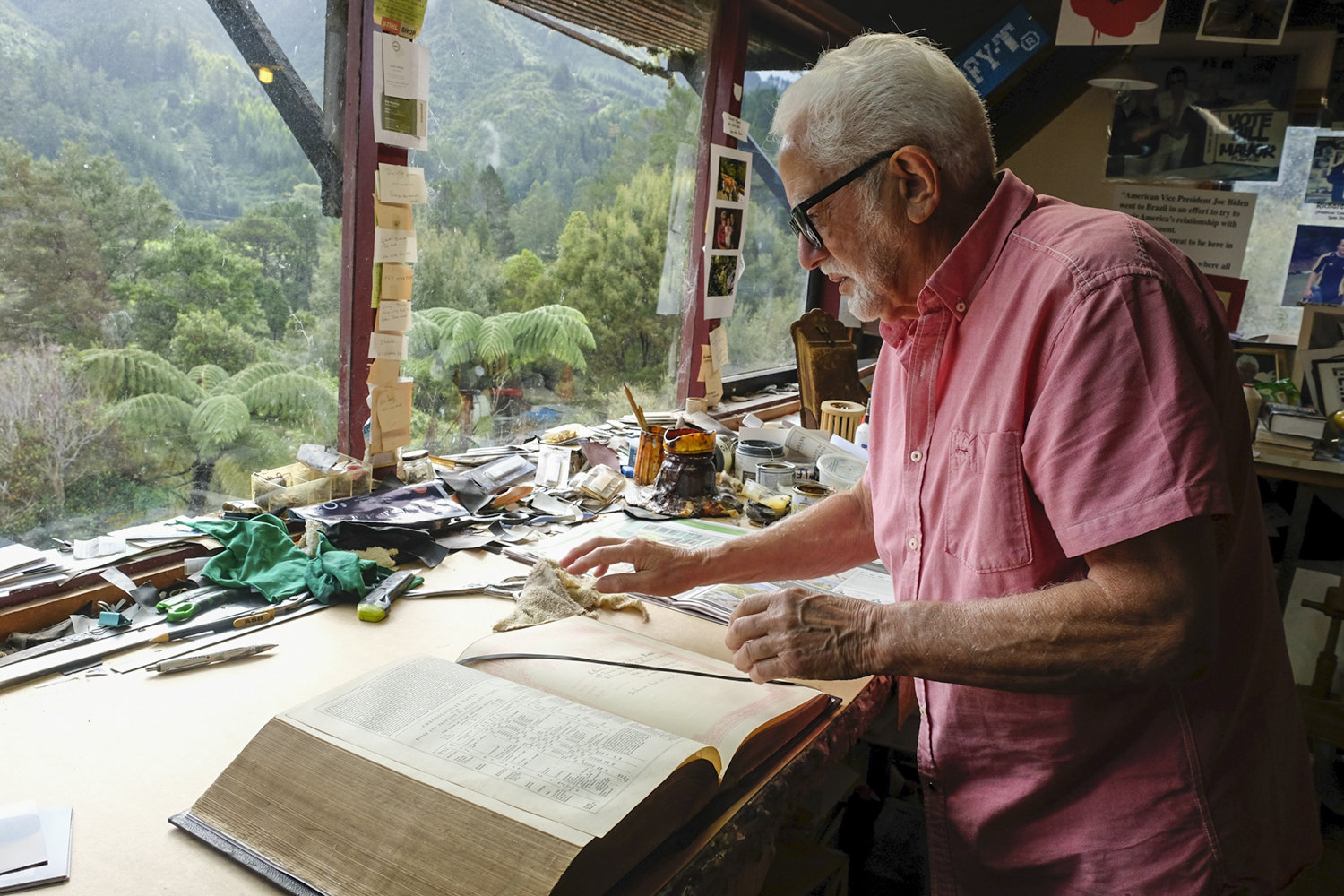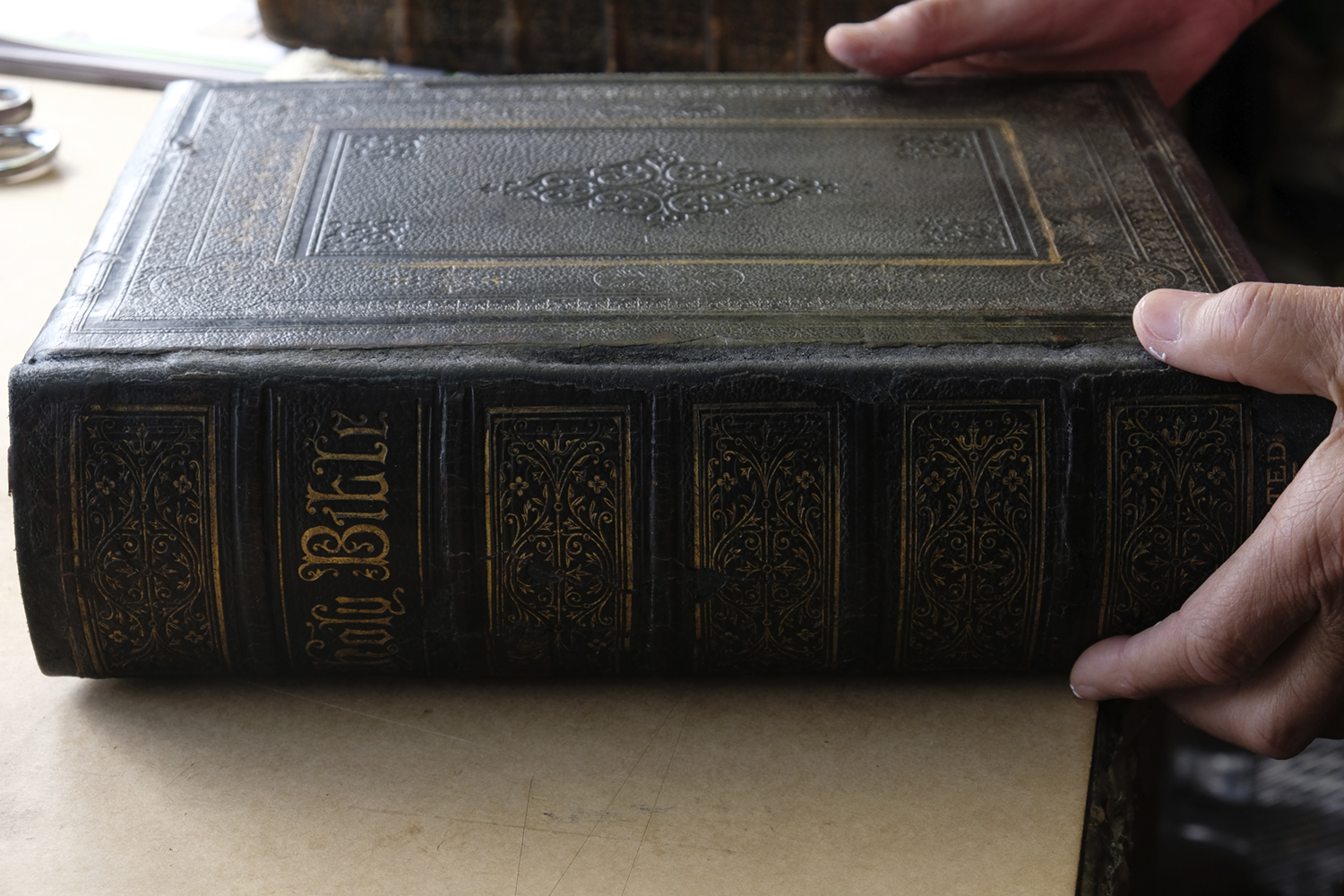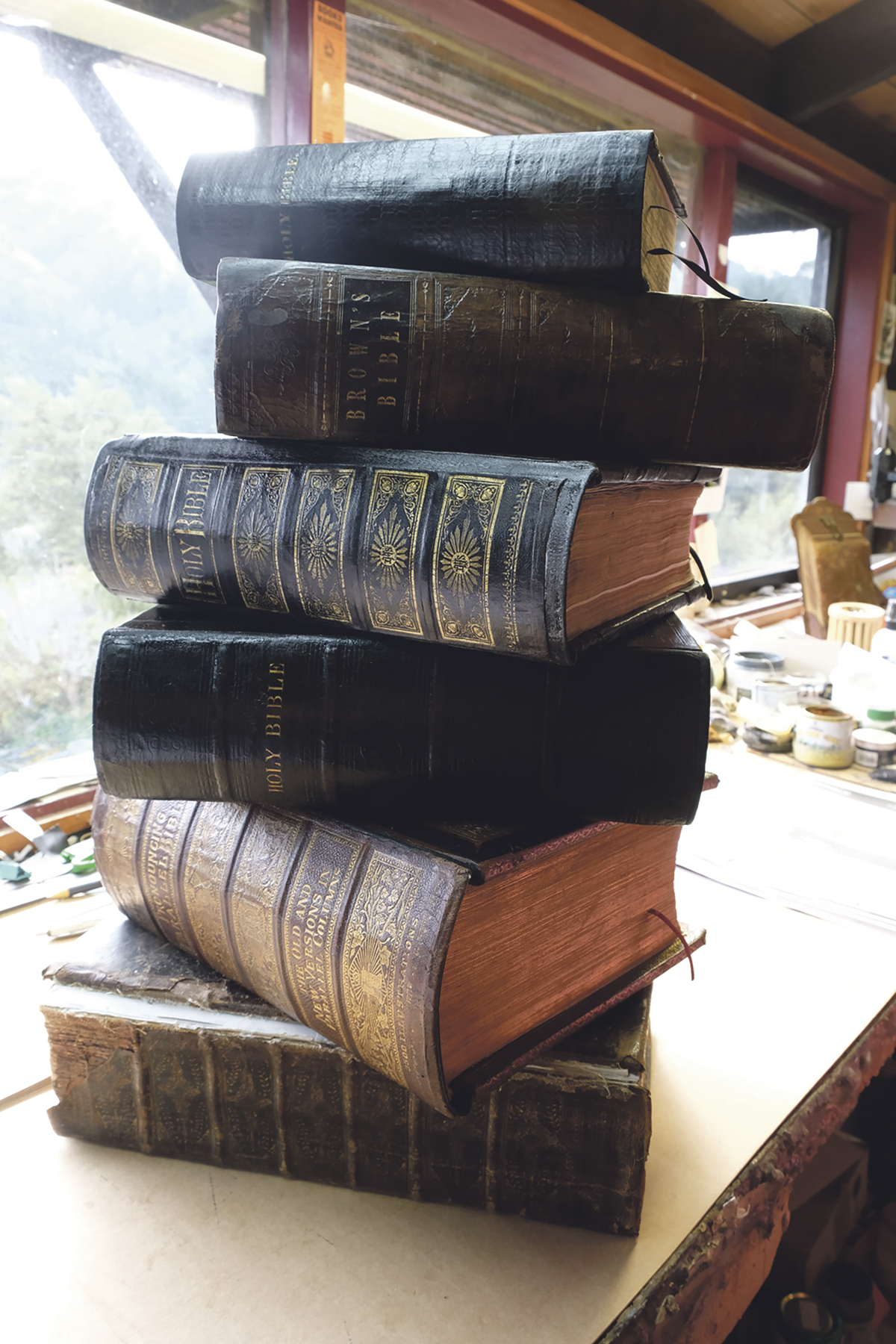 Craftsman and book repair specialist Bill Tito at work in his studio repairing treasured Bibles and books. The items are treasured by their owners and Bill treats them with due respect and tenderness.
Photos: Annette Scullion
The post Restoring taonga first appeared on Archdiocese of Wellington.