Religieuses de Notre Dame des Missions (RNDM): Sisters of Our Lady of the Missions
On 25 February 1865 four French sisters arrived in Napier to work with the Marist fathers, the first of whom had arrived in 1838 with Bishop Pompallier. Four years earlier in 1861, French woman, Euphrasie Barbier, had founded the Sisters of Our Lady of the Missions; its specific role being the education of women and children. Houses were also established in Christchurch, Nelson, New Plymouth, Hamilton, Kaikoura, Leeston and Opotiki. The Sisters in Napier, with the support of Fr Euloge Reignier sm, opened the Providence for Māori girls, later renamed as St Joseph's Māori Girls' College.
---
St Joseph's Māori Girls' College
In October this year, St Joseph's Māori Girls' College, Greenmeadows, will celebrate its 150th jubilee. Preparations to mark this wonderful event are underway.
On 10 October 1867, Fr Euloge Reigner sm realised his dream of a Catholic education for Māori girls by opening St Joseph's Providence School on Napier's 'holy hill' (the Bluff). Sisters of Our Lady of the Missions staffed the school. Fr Reigner and Bishop Viard had purchased land near the Convent with the help of Fr Forest and local people to provide the school buildings.
In 1869 responsibility of the school was handed over to the Sisters. For Euphrasie Barbier, foundress of this new Congregation, it was also a dream fulfilled – to bring Christ to the tangata whenua through the education of women and children. She explicitly expressed the desire that the 'work with the Māori should be a success'.
Euphrasie frequently wrote to the sisters, insisting they learn te reo. In a letter to the Prioress, she wrote on 15 June 1884, 'As regards the Māori children I would be very sorry if this work were to prove a failure. Do ask the Sisters engaged in it to learn the language. For a very long time I have been urging these Sisters to teach the catechism, their prayers (Mass prayers as well as others) and the hymns in Māori. It should have been done already!'
These two aspects of the education of the girls still stand – Catholic Māori. Both form the special character of our College today
The work of the early school flourished. Fr Reignier frequently called with more little girls he found either abandoned or neglected and brought them to the Sisters. In 1935 the College was re-located to its present site in Greenmeadows. The Sisters worked tirelessly to offer a high standard of education for the girls. In 1945 the College was granted full Post-Primary Registration by the Education Department. In 1987 past pupil Dame Georgina Kingi was appointed as the first lay principal.
---
St Patrick's School
Jurek Wypych, Principal
St Patrick's School in Napier is a jewel in our Catholic Education system for Year 1–8 students and their families.
The school, in the heart of the 'Art Deco' district, caters for a cross section of socio-economic and ethnic groups. Our strength lies in our cultural diversity and caring relationships within the school community.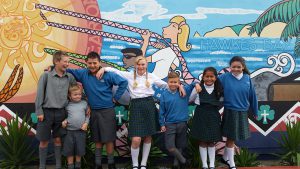 Education at St Patrick's is modern and inclusive. The roll is 340 and growing rapidly. We have 18 teachers, a deputy principal and 11 support staff.
The original school was established in 1878 and was a Marist Brothers' school for boys until the 1980s when it amalgamated with the Sisters of our Lady of the Missions to become St Patrick's, a co-educational school for Years 1–8.
The school motto 'To Live Justly' is taken from the Book of Micah. 'Three things I ask of you – To Live Justly, To Love Tenderly, And to walk humbly with your God.'
And that's what makes St Patrick's the wonderful school it is. Come and visit and see for yourself. There are no strangers here, only friends you have not met.
---
Sacred Heart College
Cara Jacobs, Principal's Assistant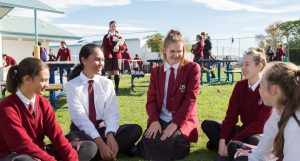 The Sisters of Our Lady of the Missions founded Sacred Heart College Napier in 1867. The college is on Napier Hill overlooking Hawke's Bay. The charism and legacy of foundress, Euphrasie Barbier, empowers our young women in their journey of life-long learning – a journey with 'hearts and minds in harmony'.
The school has three key aims: to sustain and enrich our Catholic character throughout school life; to maximise learning opportunities to realise the potential and raise the capacity of every student; and to actively engage in effective teaching and learning strategies that promote life-long learning. We enrich students' faith journeys through liturgies of prayer, music, dance and drama. Retreats provide students with 'time out' to reflect on the important issues in their lives.
Our school motto is 'Virtue and Knowledge'. The school reflects this and its special Catholic character through service, justice, peace and love and a commitment to treating all with dignity. It also reflects the teachings and actions of Jesus Christ in a changing world – bringing the life of the Sacred Heart into the hearts and minds of our school and parish communities.
2017 marks the 150th Jubilee year with the theme In her Footsteps honouring the vision of Euphrasie Barbier.
---
Reignier Catholic School
Julia Johnson, Principal
We have just over 200 pupils at Reignier Catholic Primary School in Greenmeadows.
Our values of respect, community, excellence, integrity and justice are woven into our Catholic special character preparing our learners well for their future lives.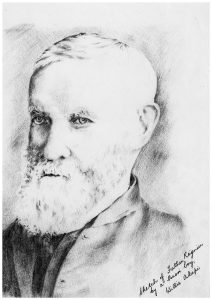 Our school began in Meeanee by French Māori Missionary, Fr Euloge Reignier. It was originally built in 1873 as a boarding and day school known as St Mary's. It was to be a boys' equivalent of St Joseph's Māori Girls' College but it gradually became a co-educational primary day school. It was staffed by the Sisters of St Joseph from 1886 until 1924.
Due to extensive flooding, a new school was opened in Guppy Road in 1926, staffed by the Sisters of Our Lady of the Missions. It was called St Joseph's Primary until 1974 when its name changed to Reignier School.
We still celebrate St Joseph's feast day on 19 March and our motto and emblem incorporates Virtue and Knowledge recognising the Mission Sisters' early influence. The school has also had a long association with the Marists priests and seminarians.
Reignier school has a rich family history with generations of local families having attended since its early days.