Published in WelCom April 2021
Michael Fitzsimons
---
Tim Stuck, the new principal of Francis Douglas Memorial College in New Plymouth, has a lot invested in the college. His father went there, he and his brothers went there and now son Harry is walking through the school gates.
---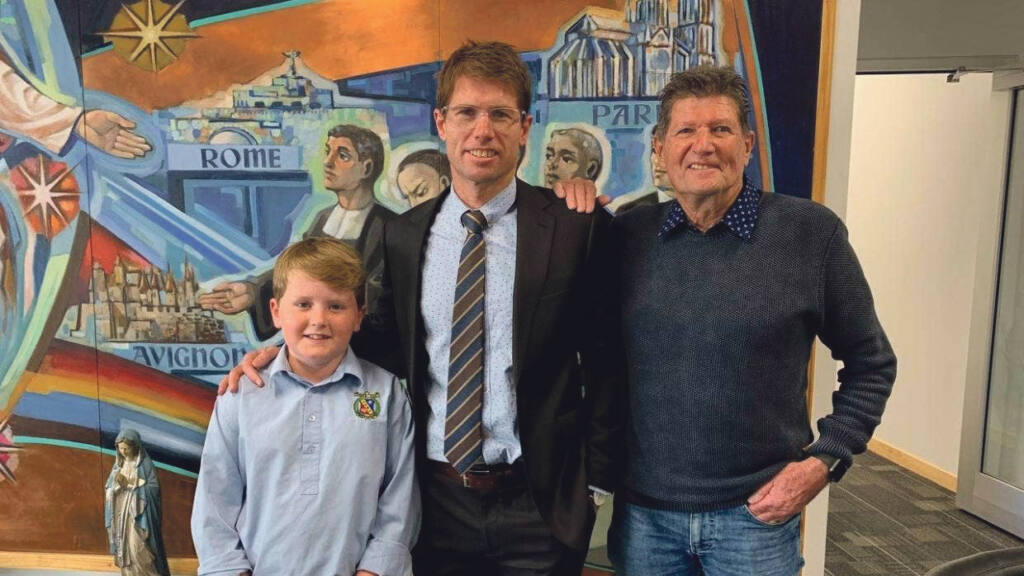 'I'm very much a local,' says Tim. 'After college I was educated at Otago University and then came back to Francis Douglas. I went overseas for a number of years and when I returned I ended up here again. I have a strong connection with the community through the parents and friends who now send their kids to the college. That was a big part of why I wanted to be here and make sure we produce a quality education for our Catholic families in the Taranaki province.'
Tim began as principal of Francis Douglas in term one this year, having been Deputy Principal Pastoral before then. The college has a role of 780 boys from years 7 to 13, with 120 boarders.
The college was founded in 1959 by the De La Salle Brothers, and was named after Fr Francis Douglas, a missionary priest who was killed in the Philippines during the Second World War.
The goal is to provide a holistic education which produces good young men who go out into the community and add value to society, says Tim.
'I think that is the most important thing. It's our duty to provide an education which enables our boys to experience a variety of things – whether they be cultural, sporting, academic – which will prepare them for life outside of school. In the end we need our boys to be good mates, good husbands, good partners, good colleagues, good fathers, whatever it may be to produce good quality men.'
Tim says the Lasallian values, which are foundational for the college, go hand-in-hand with this – respect for others, service to others and social justice.
'What I like about the Lasallian values is that they are very practical. Our five core values – respect for all persons, faith in the presence of God, concern for the poor and social justice, inclusive community and quality education – are for living out every day, they are not out of reach. We want to produce young men who will live out those Gospel values.
'We talk about men of character…we want to develop their faith and service and a strong sense of community. But we also want them to achieve excellence in all the fields that are available to them.'
Tim is married with two children, Harry and Macy. He is a surfer and has had a long-standing interest in rugby, having coached the school First XV during a golden period, which included a number of future All Blacks – the Barrett brothers, Liam Coltman, Ricky Riccitelli and Du'Plessis Kirifi. He was also assistant coach of the provincial rugby team, the Taranaki Bulls, for the last three years.
Tim sees positive changes happening in Catholic education, such as a greater respect for diversity.
'There is greater awareness these days around social justice and inclusiveness than when I was at school. We have to be mindful of others and welcome differences, whether it be gender, race or religion. Everybody brings something to the table.'
Tim's first weeks in the job have been very busy and enjoyable. Everybody wants to meet the new principal. Tim's personal wellbeing strategy is to have good people around him, including those who will 'tell me the honest truth'. And, he says, if you make a mistake you put your hand up, 'you own it'.
He is conscious of building on the great reputation which Francis Douglas has within Taranaki and further afield.
'We have a great staff. I really believe our staff care about every single student and how they are going to transition into the real world. Students come and go but your staff don't. We have a stable staff who really allow our students to flourish.'
Tim is relieved to have the Covid experiences of last year behind him.
'Covid rocked everybody's world and kids came back a bit unsettled compared with previous summer breaks. Within government regulations, we will do our best to have our school events and gatherings and keep things as normal as we can. Last year the kids missed out on experiences and this year I want to make sure that our students have those experiences and stay connected to our college community.'
The post Old boy at the helm first appeared on Archdiocese of Wellington.