Mary Nash and Mary Eastham
On Sunday, 26th February, Mary Eastham and Mary Nash, with Julie Randall, ran a follow-up workshop on 'The Letter' from Pope Francis to the world.
The Pope invited five people representing four issues to meet with him and discuss climate change and the cry of the poor – which go together. The Pope's four letters went to activists from Senegal, India, Brazil and Hawaii. They made their way to the Vatican to talk to Francis about how we can care for our common home.
Fifty people attended the workshop and listened to six panellists who each presented on climate change actions they are taking in our Diocese. After the presentations they broke up into groups led by the panellists.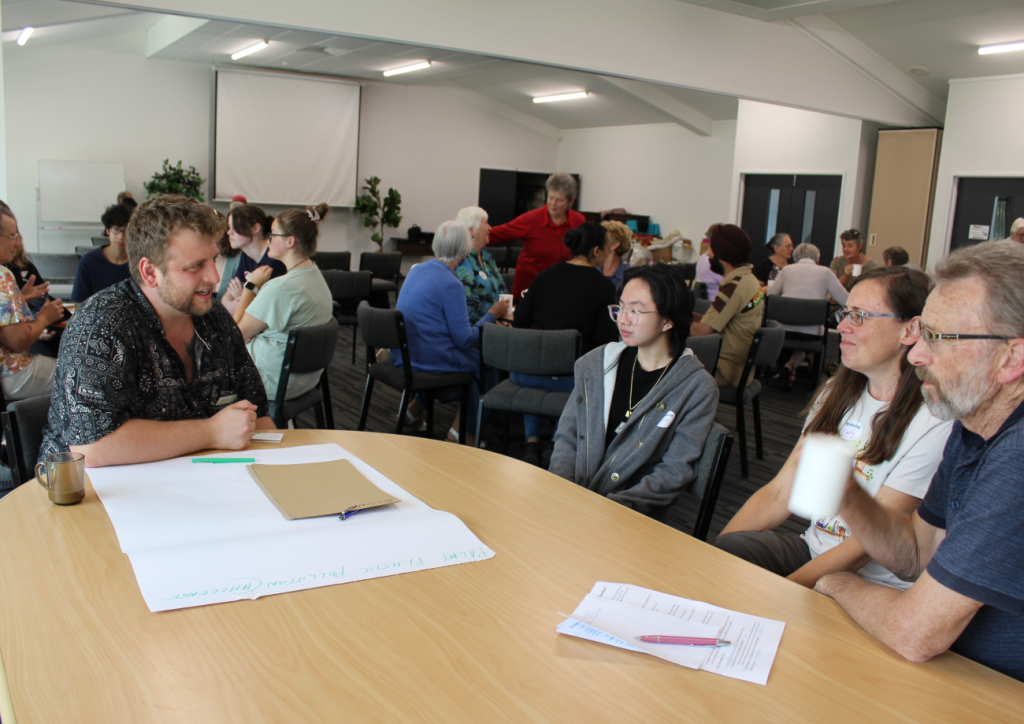 The panellists were:
Robert Van Bentum, Chief advisor water services Ministry of Education, water and waste management. His message was clear: we need to improve our use of and provision for water in our communities. What happens with water happens to us all, as we have seen so vividly in recent weeks. We have an aging infrastructure and leaky pipes as a result of historical underinvestment. We need to upgrade our electrical appliances, save rain water, avoid introducing plastics and keep informed. But we will become disillusioned if we limit ourselves to individual responses; instead, we must move to collective action. We can take action by keeping in touch with each other, holding local councils to account and lobbying businesses and governments to act responsibly for a better future for our grandchildren.
Beth Lew represented Growing Gardens and Communities for Sustainable Living. Beth described how their group was inspired to work with locally as a climate action initiative after watching a documentary called 'Tomorrow'. They resolved to put their energy into food resilience by empowering people to grow their own food. As a result they have fostered friendships, offered free gardening workshops, collaborated with Manawatu Food Action Network to put gardens into peoples' backyards and regularly network with local seed banks and Palmy Crop Swap. Beth also encourages action by keeping in touch and being informed.
Mike Stone is an Associate of Kopua, the Cistercian monastery near Dannevirke where there is a programme for restoring native habitats and biodiversity based on the Cistercian values of work, prayer and action. He reminded us that God forgives, humans sometimes forgive, nature never forgives. Again, he called for action through keeping in touch and will circulate the dates when they will be working at Kopua.
Therese Petersen spoke about St. Joseph's School Feilding becoming an enviro school through the Enviro School Programme in the Manawatu Region. The programme is co-ordinated by Horizons Regional Council and it is an environmental action-based programme where young people develop programmes within their schools. As of 2021, there were 85 Enviro schools that had City and District Councils as funding partners. The scheme involves commitment from teachers, students and parents so that it becomes a normal part of everyday life – an ongoing process. The school is basing its programme on the principles of Catholic Social Teaching, with an emphasis in 2023 on stewardship. They have installed raised gardens, compost bins, and support the Young Vinnies and the Caritas programmes. They are becoming people who think and act sustainably, caring for each other and the environment, connecting with each other and the land, valuing the people of the land and Māori spirituality. More information is available through the awesome 'Enviroschools snapshot 2022' from Horizons Regional Council.
Jaspreet Singh spoke to us about the work being done to restore a former gravel pit in Palmerston North. Pit Park working parties meet every third Sunday at 1.30pm. The group is funded by Palmerston North City Council, and will soon construct a viewing platform, offering visitors a chance to observe the wetlands and its diverse wildlife, such as frogs, dragonflies, and other animals and plants that have thrived in the newly restored habitat. Native trees have been planted to attract native birds and other wild life. In collaboration with Forest and Bird, the group educates the public about ongoing environmental efforts. Additionally, they gladly accept any spare native plants and seek to extend their support to other organizations with similar goals.
Nelson Harper was our last panellist representing the Palmy Plastic Pollution Challenge. Working closely with local councils and businesses, he and his group focus on cleaning urban streams of plastics and other waste. They advocate for product stewardship, which holds companies accountable for sustainably disposing of their own polluting waste. He warns that while products with recycling codes 1, 2, and 5 can be recycled, their labels can contaminate the recycling process. In addition to organizing an art exhibition featuring works created from materials pulled from streams, they are also working to implement a container return scheme. He urges action through initiatives like the soft plastics recycling army, increased education, and staying connected.
People attending the workshop gave us their names and contact details, so we can keep informed and network together.
The meeting ended with a short prayer of hope for the future.