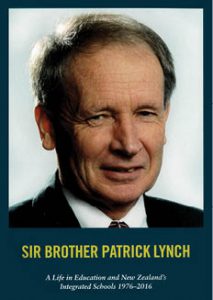 The character, personality and achievements of Sir Brother Pat Lynch KNZM, QSO, certainly justifies the writing and publication of his biography. His fellow teachers and principals will welcome it. However, it is much more than the story of a well-liked and hugely respected educationalist.
It records the history of the Catholic school system over more than four decades since Parliament passed the Private Schools Conditional Integration Act. For 25 of those years Br Pat was Director of the New Zealand Catholic Education Office, and a remarkably influential player in 'establishing' Integrated schools as a vital and valued sector of New Zealand's state education enterprise.
The book is essential reading for teachers and principals, and all interested in our Catholic schools. The lead-up to the Integration legislation of 1975 has been recorded in Rory Sweetman's: A Fair and Just Solution? A history of the Integration of Private Schools in New Zealand. The story of Sir Brother Pat Lynch is also the story of the implementation of that legislation right up to the year of his retirement, 2017.
In the early chapters, the book tells of Br Pat's life from infancy and schooling in Papatoetoe, becoming a De La Salle Brother, career as teacher and 15 years as Principal of De La College in Mangere. It then details Br Pat's years, 1994–2017, as the tireless, wonderfully effective and creative NZCEO Director.
Br Pat accepted the daunting challenge of leading the NZCEO in 1994 following the retirement of Fr John O'Neill. He brought to the task years of invaluable experience as teacher and administrator, and had already built up warm working relationships with fellow principals, the teacher unions, and the then Prime Minister and Minister of Education, David Lange MP for Mangere. Pat had been a founding member of the Secondary Principals Association of NZ (SPANZ), serving as its first Vice-President, then President for four years, during which time he gained an impressive national profile as an educational mover-and-shaker.
Major problems confronted integrated schools. Although legally State schools, they were not treated equitably by the state education authorities. For Br Pat no problem was insoluble; any difficulties could be overcome with patience, honest dialogue and genuine goodwill. And so they were, whether relating to property, financial assistance, administration or educational attainment.
His working relationships with successive Prime Ministers, Ministers and of Education and the Ministry itself, are described in later chapters. He comments positively and warmly of all, with many of whom enduring friendships were established. Also treated are the changes in education brought about by Picot Report, Tomorrow's Schools, the Education Review Office, and other reforms.
Br Pat's convictions gained from his practical experience also put this book into a 'must read' category. The reader will learn from his educational philosophy and teaching tips, that make the modest price of the book a bargain.
Sir Brother Pat has been an amazingly competent educational leader and an invaluable gift to Catholic education in New Zealand. So too is this splendid biography.
Author/Editor: Bee Dawson Publisher: Penguin Random House, 2018. Special purchase price: $25 plus $5 courier cost (within NZ). Purchase details: see below.
Book purchase details / payment options:
Online Direct Credit Payment: P J Lynch, BNZ: 02-0216-0115608-01
Credit Card, via TradeMe PayNow. If you wish to do this option, Patrick's Executive Secretary, Rowena, will generate a sale and email you the auction number to accept purchase. You will then have the option available to use the secure PayNow Credit Card facility through TradeMe.
Cheque, made to: P J Lynch, BNZ: 02-0216-0115608-01
Cash, if collecting the book from the Brothers' Residence, 81 Gray Avenue, Mangere East, Auckland.
This offer is based on a special price of $25.00 + $5.00 courier within New Zealand
For any of the above options, please let Rowena Keeman or Pat Lynch know you have purchased a book, so it can be sent. Rowena's email is [email protected] and Pat Lynch's email is [email protected]
The book will be sent by a NZ Post courier bag once payment is transferred.
For further information, please contact: Rowena Keeman, Executive Secretary on [email protected] or phone 0210 862 5832.
Thank you for your interest in reading this book. Trusting you enjoy it!
Published in WelCom July 2018