WelCom April 2023
In the aftermath of the devastation Cyclone Gabrielle brought in February to the Hawkes Bay region and beyond, Sacred Heart College Napier principal Maria Neville-Foster shares a Catholic faith and leadership response.
Maria Neville-Foster
Hawke's Bay has experienced a disaster of immense proportions and we are all still struggling to come to terms with the devastation caused by Cyclone Gabrielle.
No matter how little some of us may have been affected, Hawke's Bay will never be the same again.
But while life here has changed, we will recover, and we will be okay. It is important during this time that we show love and sympathy to each other.
We all have had different experiences, with some in our community having the inconvenience of not having power, while some lost everything. Many of our families are traumatised and struggling. Many are feeling upset and sad.
We need to acknowledge how people are feeling regardless of the level of their involvement. Those who have suffered need words of support, kindness and understanding right now. This includes what we are posting and saying on social media.
In this painful time, we need to have hope and we also need to focus on human kindness. That value of hope needs to continue to be at the forefront of our thinking, because as a faith community, we are a hopeful community and we must not allow the darkness that can come with times like this, to overwhelm us.
We must not ignore the darkness, but rather attempt to overcome it with the value of hope. Because through our faith in the Lord Jesus Christ, we have hope. The theme for Lent 2023 has been 'I am the Light of the World' and this reminds us that Jesus brings light to a world often darkened by disease, disaster, violence, lies and hypocrisy. Jesus' life, and his proclamation of the truth, is a challenge to each of us to lead our lives following his example.
This theme is for us. We have been darkened by disaster, by violence, by lies and hypocrisy in the aftermath of the cyclone. Now more than ever we need to be the light of the world. The Gospel of Mathew says: 'You are the light of the world. A city set on a hill cannot be hidden. Nor do people light a lamp and put it under a basket, but on a stand, and it gives light to all in the house. In the same way, let your light shine before others, so that they may see your good works and give glory to your Father who is in heaven.'
When we listen to the words of Jesus, we understand what it means to be a Catholic leader. We are the light, we guide others, we bring hope to others when they feel they are surrounded by darkness. We do this because the light of Christ still burns within us. As Catholics we do not hide our faith away. We lead with it. We become the light of the world.
At Sacred Heart we are that 'city on the hill'. We stand proudly as leaders of the Catholic community.
Sacred Heart has a strong pastoral care in place anyway, but we made this a real focus after the cyclone. We contacted every single family either through email or phone. We have continued to support those in the greatest needs and have also been giving out food parcels, petrol vouchers and water so that there is one less thing for people to worry about. These are practical ways in which we have been able to show kindness and to give them hope.
As a school, we have also been overwhelmed by the support we have received from the Catholic community in New Zealand, especially Palmerston North Diocese and other Catholic schools.
Special mention must go to St John's College in Hastings, with whom we have a strong connection. I want to acknowledge the support that St John's has given our community by collecting items and sending them over to us. Other schools like St Peter's College, Palmerston North and St Joseph's Primary, New Plymouth have held Mufti Days to raise funds to donate to our Cyclone Relief Fund.
We've had Bidfood who donated a load of food in the first three days we opened, so that we could give free food and lunches to all of our students. The relief fund is being used to pay for food parcels, lunches, water, petrol, computers and whatever else is needed.
I'm extremely grateful and almost overwhelmed with people's generosity and the actions of many, including our students, in the communities.
It's heartwarming in a time when we're also feeling devastated. It's the human kindness that we continue to see and that's what we need to continue to focus on.
We continue to hold those who have been affected in any way by the cyclone in our prayers. We are not alone and will get through this together by showing care, compassion, understanding and kindness towards each other.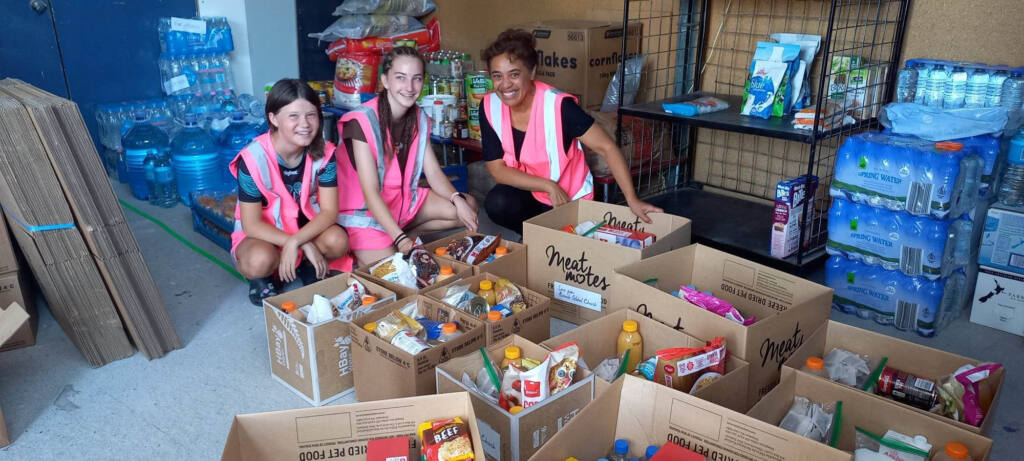 The post 'Hope, light and human kindness in traumatic times' first appeared on Archdiocese of Wellington.