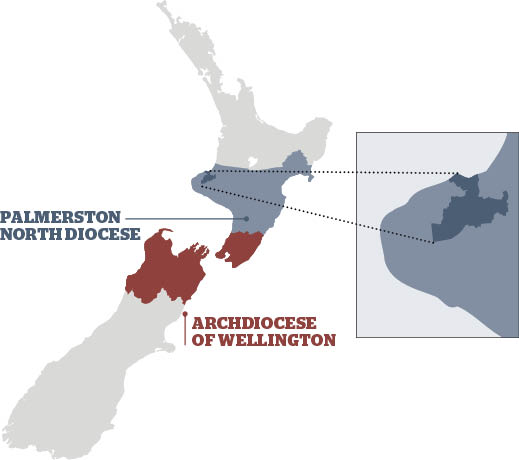 Our Hīkoi of Faith this month visits the pastoral area of Inglewood and Waitara. Inglewood is a town in the Taranaki Region, 16kms southeast of New Plymouth on SH3, and close to Mount Taranaki . The town services a mainly dairy farming region and is only a 20-minute drive to New Plymouth city and it is becoming something of a dormitory town for the city. Waitara is a town in the northern part of the Taranaki region just off SH3, 15 kms northeast of New Plymouth. Its population is around 6300. Waitara was the site of the outbreak of the Taranaki Wars in 1860 following the attempted purchase of land for English settlers from its Māori owners. Waitara means 'mountain stream'. 
---
Brief history
1852: Fr Pezant sm, first recorded European to walk to district, guided by Māori through dense bush from Hawera to Inglewood.
1878: Catholic settlers built a small chapel in Inglewood.
1886: Inglewood chapel extended and reopened October.
1889: Fr McKenna appointed parish priest of St Joseph's, New Plymouth, responsible for Inglewood, part of St Joseph's parish.
1899: Inglewood Catholic population growth required new church; built and opened November.
1906: Sisters of the Mission arrived in Inglewood, lived in new convent, small cottage purchased by parish; provided Catholic education in hall also purchased by parish.
1908: St Patrick's, first church, Waitara opened, dedicated by Archbishop Redwood.
1909: Inglewood Parish established and dedicated to the Sacred Heart of Jesus. Fr McManus first parish priest.
1912: Convent School with two classrooms, established by Sisters of Mission de Notre Dame. First year, 30‒40 pupils (third classroom added in 1925, roll increased to 160 pupils). Sisters travelled from New Plymouth each day by train.
1915: Sisters convent opened by Archbishop O'Shea.
1926: St Patrick's School, Inglewood built; new convent, built a few years later. (No longer houses nuns; leased out and used for accommodation.)
1936: Alterations made to Sacred Heart Church, Inglewood.
1944: Māori Girls' Boarding School opened to accommodate 19 girls, next to Convent School.
1946: Boarding School roll, 148 pupils (22 boarders).
1949: Ngā Pekanga Māori Mission Station established, opened, blessed, occupied.
1950: Parish of St Patrick, Waitara area formed into a separate parish from New Plymouth; own resident parish priest, Fr Brooks; immediate mission to build new school, with future view for school, convent, church, presbytery on one site.
1951: New school in Waitara opened by Bishop O'Neill before crowd of 2,500.
1957: New church started, Waitara.
1959: New church completed, official blessing and opening by Archbishop McKeefry; dedicated to St Joseph, to whom Fr Brooks was devoted. Name of parish changed also. New (and present) church, unusual design and dominated southern entrance to town. Architect Mr R Roberts of Hawera, builders, Jones and Sandford Ltd, New Plymouth. Fr Brooks' design idea from similar structure he saw in America.
1961: Fr Brooks retired due to ill health. Departed for Ireland in 1964 and died three months later on visit to his brother, Mr James Brooks, County Clare.
1961: Māori Girls' Boarding School closed due to the state of building and upgrade costs; boarders transferred to Opunake.
Early 2000s: Sacred Church building continuous use for over 100 years; church building received Heritage B classification.
2011: Major project begun to Sacred Heart Church to create sacred space and extend church, parish office, meeting room and hall. Project boosted with large bequest from Burkett family.
2012: Sacred Heart complex completed to deliver beautiful new parish complex for all.
---
Sacred Heart, Inglewood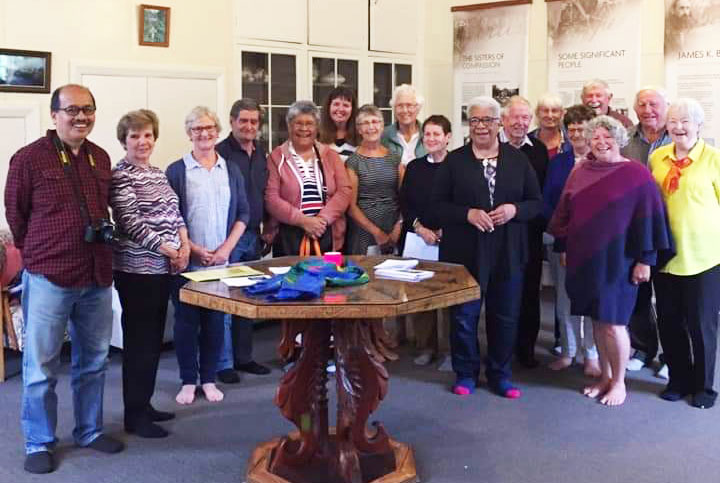 Alan Gibbins, Parish Council
Marist Priest Fr Pezant in 1852, is recorded as the first European to walk through the district, guided through dense bush by Māori from Hawera to Inglewood. Originally covered in bush, the Moa Block, as the area was known was cleared by early settlers, many from Poland who came to Inglewood on the Fritz Reuter ship. They worked on roading and in sawmills and as the surrounding districts were cleared of bush, the town morphed into a rural-service town. With excellent volcanic ash soils and reliable rainfall, this was a good place for dairy farming. The town was renamed Inglewood and continued to grow to a current population of around 3400.
The parish today is a community of around 140 active Catholics from the town and surrounding rural districts to Lepperton, Tariki, Tarata and Egmont Village. We are close to and dominated by the legendary Taranaki Maunga to the south west. He has a big influence on our climate and is an important beacon for all living here. We are well served by parishioners in lay ministries.
Overseen by Parish Pastoral Council, Works and Finance and Liturgy committees we have two music groups, an active CWL, a Faith Sharing Group, Children's Liturgy, cup of tea after Sunday Masses, Anointing Masses, a Christmas movie for the kids, good use of our hall by parish and other community groups and ecumenical services with other local denominations. We have run several Adult Faith Education courses and recently we had a group of parishioners make a one-day pilgrimage to Hiruhārama.
Wonderful lay participation has developed out of necessity because we have been without a resident priest since 2003. Our Sacramental needs were satisfied by priests of the North Taranaki area and more recently by Fr Freddie Barte who resides in Waitara but is parish priest of both St Joseph's in Waitara and Sacred Heart in Inglewood. Freddie is well loved in both parishes and he brings a very pastoral focus. He has attracted families from outside our 'area' and has made us all more aware of our mission as baptised people of God– that we are 'Priests, Prophets and Kings'.
The cultural makeup of our parish community is changing with increased immigration into New Zealand. We welcome the diversity this brings.
St Patrick's School is nearby and there is a good relationship between school and parish. The children attend Mass weekly and sometimes at the school – about 400m down the road from the church.
We are proud the parish has been very fruitful with vocations to the priesthood and religious, with four priests ordained and 12 nuns professed from Sacred Heart.
Ageing parishioners and dwindling numbers pose a problem for the future, which is why we are embarking on an exercise to determine a vision for Sacred Heart's future. What and where do we want to be in say five, 10 and 20 years from now? Once we settle on a shared vision that has arisen from the whole parish and is in tune with the Diocesan vision, we can set about working out ways to achieve the vision. This will be our mission and the hope is that every parishioner will in some way be engaged with it.
The parish community of Sacred Heart in Inglewood welcomes you all.
Sacred Heart Church Inglewood sits under the legendary Taranaki Maunga.
Photos: WelCom and supplied
---
St Joseph's, Waitara
Anne Burrell, Parish Council Chair
Fr Freddie Barte, from the Philippines is the parish priest of both St Joseph's, Waitara, and Sacred Heart, Inglewood.
Fr Freddie has been with us for six years and we are truly blessed to have him ministering to us all.
There are approximately 90 active Church goers at St Joseph's and we enjoy a close relationship with our Parish School. On completion of their primary education most of our pupils go on to Sacred Heart Girls' College or Francis Douglas Memorial College in New Plymouth.
We have active committees and groups in our church including: Parish Pastoral Council; Liturgy; Health & Safety; CEC; Finance; Children's Liturgy and Sacramental Programmes; Bereavement; Parish Concern; Music and Choir; Altar Servers; and many other people who look after our flowers, grounds and cleaning of our church.
During 2019 we hosted two special events – the World Day of Prayer Ecumenical Service on 1 March, prepared by the women of Slovenia; and the International Centennial Pilgrim Image of Our Lady of Fatima in April. Parishioners and visitors walked around our church grounds following the statue and reciting the Rosary. Afterwards a beautiful Mass was held in the Church and scapulars were distributed. The evening closed with a light tea in the foyer.
Parish priest Fr Freddie Barte and parish secretary Nicky Kuklinski, outside Sacred Heart Church, Waitara.

Madonna and Child, St Joseph's Church.

Waitara township on the north side of Maunga Taranaki.
---
Ngā Pekanga Catholic Māori Mission
Tiahuia Abraham
Ngā Pekanga Catholic Māori Mission has been here in Waitara since the late 1940s for the Catholic Māori Missioners. My first memory was as an eight-year-old when we travelled from Puniho, Okato, to visit Fr Gordon Kerins who moved from Okato Presbytery after a fire burnt down the presbytery in 1947. After the fire, the North Taranaki mission base was moved to Waitara.
Three acres, situated on the Main North Road, at the corner of Princess Street and Bayly Road, were purchased by the Māori Mission and from donations in December 1948. The land included a large residence, a two-roomed cottage and some smaller buildings. It was acquired in the name of the Archbishop of New Zealand, who was also the Bishop of the Māori Missions.
The Mission Station is called Ngā Pekanga, which means 'call in'. It was opened, blessed, occupied and established on 1 January 1949.
In 1983 the whole Taranaki mission was centralised at Ngā Pekanga.
I am now the Chairperson of the Ngā Pekanga Catholic Māori Mission Society Trust. Ngā Pekanga has Miha Māori every second Sunday, beginning in February, every month except January.
Tiahuia Abraham QSO, is past president Aotea Māori Women's Welfare League Regional Council, and president Whakaaronui Ki Te Ora MWWL Whanganui.
Mary's grotto at Ngā Pekanga.

Christmas Mass and whānau Christenings for the Davis mokopuna whose nanny is Anna Davis Trustee of Ngā Pekanga Catholic Māori Mission Society Trust and mokopuna of Tiahuia Abraham. Kuia Carol Davey was the Christening Kuia for the tamariki. Our beautiful mokopuna were christened by Pā Tom Lawn. This made our Christmas very special and our Ngā Pekanga whare was decorated beautifully celebrating the birth of Jesus.

Ngā Pekanga Catholic Māori Mission whare karakia and its historical surroundings.
---
Taranaki Māori Mission
From the 1850s until the 1880s Marist priests in Taranaki carried out missionary work among both Māori and the pastored European settlers, and on through the twentieth century were responsible for Māori pastoral care. In the nineteenth and early twentieth century nearly all the priests involved were French. The Marists came to New Zealand originally to evangelise Māori and before 1850 most were in the upper North Island. In 1848 Rome divided New Zealand into two vicariates-apostolic; the Marists were moved south to Wellington. In 1852 Bishop Philippe Viard posted Fr Jean Pezant to Wanganui town, and Fr Jean Lampila to the Whanganui River. Both began to make overland journeys on Māori bush tracks to Taranaki, visiting Māori and Europeans. On occasions they journeyed up the Whanganui River, across overland to the Waitara River, visiting Māori villages and onto New Plymouth.
Up till the 1880s intermittent warfare and an understandable disaffection among Māori for anything 'pakeha' meant little missionary success. From 1886 to 1896, Fr Claude Cognet visited around Taranaki from a base in New Plymouth. From 1896 he worked from Okato in a Marist house he had built there and stayed until 1907. Fr Christophe Soulas joined him in 1904 and did much good work up till 1920. Fr Soulas made big impact on Māori of Waitara. Fr Louis Menard replaced him but in 1927 Okato was closed, and the Taranaki mission began to be worked from Hiruhārama.
The Taranaki mission had a revival from the late 1930s. Fr Frank Wall, one of a group of New Zealand-born Marists getting into the Māori mission, working from Jerusalem, in Fr Jim Durning's words, 'divebombed the Taranaki mission into new life'. In 1940 the two were sent to re-open Okato base, with Fr Wall looking after South Taranaki and Fr Durning the North. In 1945 Frs Wall and Gordon Kerins set up a permanent base in the south at Ketemarae, Normanby.
After the Okato presbytery was burnt down in 1947, the North Taranaki mission base was moved to Waitara. In 1983 the whole Taranaki mission was centralised at Ngā Pekanga, Waitara.
Extracts: The Māori Mission, Brian Quin sm, July 2009.
---
St Joseph's School, Waitara
Moya Christophers, Principal
St Joseph's Hostel for Māori Girls was opened in 1944, with girls coming from all over the North Island and especially from Taranaki. By 1949 the school was overcrowded, and planning and fundraising had started for a new school along with the establishment in 1951 of Waitara as an independent parish. The new school, which we carry on today, was formally opened on 16 September 1951 by Bishop Hugh O'Neill.
Today we have five teaching staff, four support staff and 90 students. We are looking forward to a modern learning up-grade of the existing footprint in 2020.We believe we give our students a positive start to a spiritual and faith journey along with a rich curriculum that keeps our students engaged and connected with many learning opportunities.
Our Mission Charism comes from the Sisters of Our Lady of the Missions, represented by the congregational founder, Adele Euphraise Barbier. The Charism encompasses Contemplation, Communion and Mission, which we connect with our commitment to our cultural competencies and school values embedded in all our practices.
At our school we believe we are all leaders and we draw from the strengths and knowledge of our community to further celebrate and grow our unique Catholic school in the Waitara, Taranaki community.
We are strongly connected to our Parish of St Joseph's Church and Ngā Pekena North Taranaki Catholic Māori Turangawaewae. The parish supports all our school activities and has a strong sacramental programme to support all our families. We continue to be blessed to have our resident priest, Fr Freddie Barte.
St Joseph's students and staff.

St Joseph's School is located beside St Joseph's Church, Waitara.
---
St Patrick's School, Inglewood
Suzanne Harrison, Principal/DRS
Nicola Pryme, Deputy Principal
Our Catholic school was opened in 1906. The original school was at a different site from where we sit today. Our present school building was officially opened by Archbishop Redwood in 1926. While there have obviously been numerous principals, leaders and boards of trustee members over the years,
one thing that has remained constant is our faith journey.
We have identified three values that can be linked to the Gospels. The Sisters of Our Lady of the Missions are our founders and our Mission Charism, in the spirit of Euphrasie Barbier, is expressed through these values:
Mission – Caring – Manaakitanga;
Contemplation – Unity – Kotahitanga; and
Communion – Respect – Whakaute.
The vision we have around our school is ensuring the education of our 88 students is Christ-Centred and infuses our relationship and responsibility with people and the environment.
Today we have five teachers, two teacher aides, an office administrator, a cleaner and caretaker who all work together as a team to ensure our students thrive in a great educational and safe environment.
Our community is made up of a variety of professions including farmers even though we are situated in the heart of Inglewood and closely under our Maunga here in Taranaki. One of the strengths of our school is our faith and our connection to the Sacred Heart Parish. With parish support, we celebrate Baptisms and the celebration of First Holy Communion annually.
We are very proud of our students and their abilities to lead school Masses, which include the PowerPoints, music and offertory as well as Altar Serving.
We believe our school is a great place of learning and it offers equitable outcomes to all.
St Patrick's School, Inglewood, sits under Taranaki Maunga.

Celebrating education and culture.

Fr Freddie Barte and first communion children.