WelCom August 2023
Annette Scullion
The Diocese of Palmerston North's primary and secondary school faith leaders – principals and directors of Religious Education – gathered at the diocesan office and at Hato Pāora College near Feilding, for a two-day conference in June.
The conference was an opportunity for the faith leaders to reconnect in person having been unable to gather as a group kanohi ki te kanohi – face-to-face – for several years. It was also an opportunity to experience the richness of wairuatanga – spirituality – and its connection to Katorikatanga – Catholicism.
The Palmerston North Catholic Education team had been organising the conference for several months to ensure a successful gathering. The team includes Teresa Edward, Pauline Balm, Jane Dravitzki, Candice Adams and Therresa Logan.
The conference began in welcome at Te Rau Aroha, Palmerston North Diocesan Centre, by Debbie Marshall Lobb, Nuwyene Te Awe Awe Mohi and Meihana Durie who represent mana whenua Rangitane Iwi.
As part of whakawhanaungatanga – connecting and building relationships among one another – the group spent some time with introductions and formalities getting to know one another.
'We have been blessed in our diocese with a number of new faith leaders and acting faith leader appointments since 2021 so we would like to take this opportunity for everyone gathered to introduce themselves,' said Teresa Edwards, Education Office Manager.
The representatives from each school were invited to stand and introduce themselves. Included was an invitation to conference supporters Aaron from Programme Maintenance and Steve from Education Services.
The afternoon included a session on spiritual nourishment led by Palmerston North-based lecturer and Te Kupenga site coordinator Br Kevin Dobbyn fms. Time was also spent discussing the Education Office aspirations and strategic direction for 'thriving Catholic schools in partnership'. A team from the diocesan office gave an update about property, attendance dues and edition. The day concluded over a conference dinner with keynote speakers Dr Kevin Shaw and Rosalie Connors of the New Zealand Catholic Education Office.
The following day the group travelled to Hato Pāora College near Feilding and were welcomed onto the school marae with a pōwhiri.
Tumuaki Dr Nathan Matthews facilitated the visit by immersing the group in the unique dual special character of being Māori and Catholic. He talked to the faith leaders about the history and purpose of Hāto Pāora and the challenges of reaching Māori and Catholic young people with a dual charism – Māori knowledge, Catholic perspective and the space in-between. He described the importance of daily singing and the college chapel as 'a really big part of our Katorikatanga and fundamental to the life of Hato Pāora. It is at the heart of the school, a living space.'
Dr Matthews guided the visitors through the meaning for the four pou in the chapel: Mary as loving and fierce; Joseph as loyal and hardworking; Paul as strength, a 'warrior', ability to change your life if you need to; and Peter Chanel as sacrifice.
He said to the teachers, 'I can see myself here. That's what we want for Māori. Speaking Māori, singing Māori songs.' He asked them, 'How are you doing that for your students?
'Wairuatanga is spirituality, not religion. How is wairuatanga, in a meaningful way, in your strategic plan for your students? We walk a line that equally supports Māori and cultural knowledge, but the Catholic faith is a compass. If you are not confident culturally, you are not confident in life.'
The two-day conference concluded with Miha – Mass in the college chapel.
Teresa Edwards said, 'Our time together at our Faith Leadership conference was collaborative, enriching, and inspiring. Our diocese is truly blessed with wonderful faith leaders in our Catholic school communities.'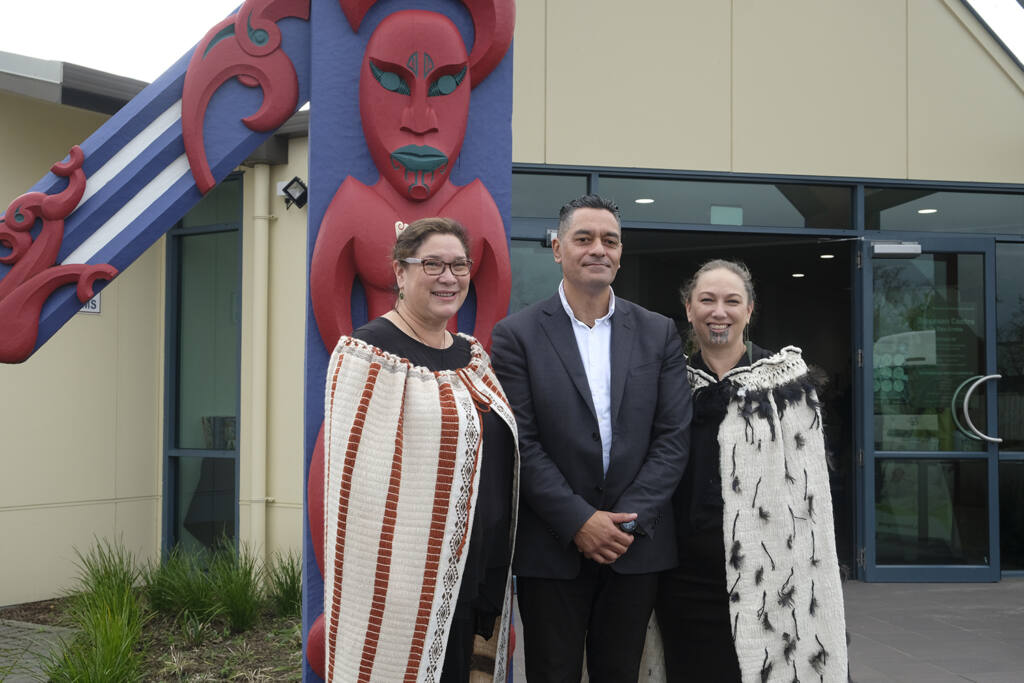 The post Faith Leadership in Education – Te Rohe Pīhopa o Te Papaioe – Diocese of Palmerston North first appeared on Archdiocese of Wellington.