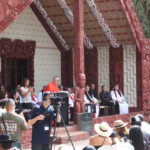 At the Waitangi Treaty Grounds on Waitangi Day, 6 February this year, Cardinal John Dew urged New Zealanders on this day to recommit to protect the beliefs of followers of all religions and of non-religious people.
Bishop Te Kitohi Pikaahu, Vicar-General of the Māori Anglican Church in Aotearoa New Zealand and Coordinator of the Ecumenical Worship invited Cardinal John, as New Zealand's Catholic Metropolitan Archbishop, to attend the 180th Anniversary of the Signing of Te Tiriti o Waitangi at the Treaty Grounds. Cardinal John was also invited to deliver the homily at the interdenominational church service.
Cardinal John's message was one of religious tolerance, inclusion and acceptance, and referred to such historic events as Bishop Pompallier, the first Catholic Bishop of Aotearoa New Zealand, seeking and receiving an assurance of religious freedoms for Māori and settler alike from Captain Hobson at the signing of the Treaty in 1840.
Cardinal John Dew said it was an honour to be present at Waitangi on Waitangi Day and to give the homily at the ecumenical servicePhotos: Lara Thorne, Pahia
Cardinal John recalled the Christchurch mosque' massacre last March and said New Zealand's tradition of religious freedom was first affirmed at the signing of the Treaty of Waitangi in 1840.
'It is religious tolerance, religious inclusion and religious acceptance that is our heritage. I believe it is time to recommit ourselves to protecting the faiths of all who live here: of Māori custom and spirituality, of the different Christian denominations, of Muslims, Jews, Hindus, Sikhs, Buddhists, Bahai'i and many other faiths; and also the freedom of religion and conscience of those who profess no faith', Cardinal John told the service at Te Whare Rūnanga.
At the signing of the Treaty in 1840, 180 years ago, Bishop Jean Baptiste Pompallier – the first Catholic Bishop of New Zealand – asked the representative of the British Crown, Captain William Hobson, for religious freedom to be respected.
'It is good we look here to Waitangi, where in these first sacred discussions about the way to live in partnership with each other, my predecessor – my tūpuna in faith – Bishop Pompallier asked for and received a guarantee of religious freedom and protection.
'We are all brothers and sisters, made by God. We thank God for our diversity. We thank God for New Zealand's tradition of religious freedom and equality. It is religious tolerance, religious inclusion and religious acceptance that is our heritage. We honour and celebrate that today.'  
Source: NZCBC