Hika Perez and Alton Gondipon have started an initiative to engage students from 5 local new Plymouth schools in a social justice initiative to support those in need in their community.
Students from Spotswood College, New Plymouth Boys' High School, New Plymouth Girls' High School, Sacred Heart Girls' College and Francis Douglas Memorial College spent hours after school on Thursday preparing food, serving and cleaning at a new community meals initiative. The local community got on board too and donated so much towards the community meal that the rest was dispersed to other local foodbanks!
While this is an initiative of the Catholic Church, many people of good will have got on board. Perez said, "Loneliness is rife, and community engagement is what is needed". The community is working together to support those who society at large considers the last lost and least.
Although they planned for as many as 100 people to come for the free meal and goodie bag of hygiene products, the 56 who came along was a fantastic start. The next meals are already scheduled for future.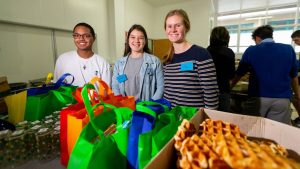 Jeremy Johnson of Francis Douglas, Larissa Wilkinson of Spotswood College and Anna Waayer of Sacred Heart
(from Simon O'Connor / Stuff – https://www.stuff.co.nz/taranaki-daily-news/news/115046922/high-school-students-volunteer-their-time-to-put-on-a-feast-for-people-in-need)