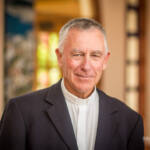 Kia tau te rangimārie ki a koutou
This Newsletter comes to you a bit out of sync from the normal fortnightly message I send you. There was a Newsletter last week, but I write to let you know that this will be the last one for a while.
I have had some difficulty since I contracted Covid in May last year. At first I thought it was Covid related, but then discovered after a number of tests that it was something totally different. For many years I have walked early every morning, it has been a time of prayer and reflection for me and a good way to exercise. I have not been able to walk very far for many months now due to severe nerve pain in my legs. Therefore, to help overcome this I will be going into hospital for spinal surgery next Tuesday 21st March. There will then be a recovery time of 6 – 8 weeks. As I will be out of action for a few weeks Archbishop Paul will deal with the day to day running of the diocese, with the help of Msgr Gerard Burns as Vicar General. Archbishop Paul will celebrate the Chrism Masses this year, and the Easter Triduum at St Teresa's Pro Cathedral.
Please keep me in your prayers as I face this surgery on 21st March.
Nāku noa. Nā
+John
The post Special newsletter – Cardinal John Dew. first appeared on Archdiocese of Wellington.