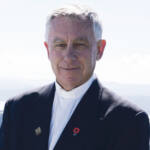 Kia tau te rangimārie ki a koutou
We live in an age in which we are told to be careful of so many things. Health and Safety regulations are everywhere, and it is right that they are. We need to be kept safe on our roads, around building sites, and crossing the street. We could easily trip in our homes, harm ourselves carrying something, or get into difficulties when at the beach. Being careful is part of our life, and all the signs and the regulations are about keeping us physically safe. Usually when we are careful, we are safe.
At Mass last Saturday morning I suddenly thought as we prayed the Psalm that I don't always hear the verses of the Psalm and concentrate more on remembering and making the response. What I noticed just before Mass last Saturday were the following words from Psalm 119:4
"You have laid down your precepts to be obeyed with care."
I was very taken by and intrigued by the words "with care", and later in the morning looked up another translation of that verse. One translation said:
"You have commanded your precepts to be kept diligently."
They are wonderful words, worth thinking about more deeply in this time of Lent, a time when we are invited to pay closer attention to the Word of God. Do we keep God's commands  "with care" or "diligently"? Do we take "care" to ponder on the Gospel and the many invitations Jesus puts before us? Are we "diligent" in trying to live the Beatitudes and the Commandments? With the way we listen and pray at Mass?
"With care" and "diligent" might be good words to use to reflect on our lives as we try to grow closer to the Lord in this Lenten season. They are words we can also apply to our daily living, the way we speak to others, go about our daily work, and take time to pause and be aware of God's presence.
Living the Gospel means that everything in our day-to-day life is enriched if we live "with care" and with "diligence."
Nāku noa. Nā
+ John
The post Living the Gospel in our everyday life. first appeared on Archdiocese of Wellington.