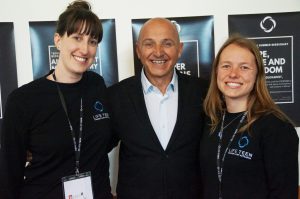 Randy Raus, US-based CEO and President of Life Teen International, visited dioceses around New Zealand in September. He came to share his experiences about the movement of Life Teen and meet with a variety of people involved in youth ministry. Life Teen International provides resourcing and support for parish-based youth ministry in 31 countries and also supports Summer Camps across the USA and globally.
Life Teen is being implemented in several parishes across New Zealand as well as the annual Summer Camp that takes place in Ōtaki each January, involving 250 young people from across the country.
During his visits to the Diocese of Palmerston North and the Archdiocese of Wellington, Randy met with several people involved in youth ministry and hosted seminars about Life Teen. The gatherings were a time of fellowship, learning and encouragement.
Isabella McCafferty, Family and Young Church Vicariate, Wellington Archdiocese.