WelCom September 2022
Sue Seconi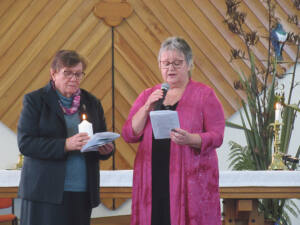 Religious Sisters, family and friends gathered in a spirit of joy and hope at St Mary's Church Whanganui on 23 July to celebrate with Adrienne Gallie rsj, her life commitment as a Sister of St Joseph of the Sacred Heart. Congregational leader Monica Cavanagh rsj from Sydney received Adrienne's vows.
The Mass, led by Emeritus Bishops Peter Cullinane and Owen Dolan, was live-streamed.
A kererū on a harakeke branch on the sanctuary represented Adrienne's 10-year journey. 'Being from the dove family, the kererū can identify times of reconciliation and joy. It's a carrier of the olive branch and always finds the way home. They speak of living from the heart,' Adrienne said.
After Sr Monica gifted Sr Adrienne a ring symbolising her life-long commitment in love as a Religious Sister in the Josephite tradition, she said it also reflected a fresh binding of her life in God's truth, peace and love.
Born and educated in Whanganui, Adrienne returned in 1992 from Australia to raise her sons and to be near her family after her husband Sean was tragically killed.
Those years also provided her the opportunity to take part in retreat and workshop days and personal development courses at the Josephite Retreat Centre in Whanganui, where she eventually became the manager. Working closely with the Josephite Sisters, Adrienne was inspired by their wisdom, friendship and hospitality, which developed a hunger in her own spiritual life. Following a pilgrim experience in retracing the footsteps of founders St Mary MacKillop and Fr Julian Tenison Woods, coupled with her own resonance with the Josephite charism, an invitation came to live as a Sister in Community. Her sons were by then independent adults.
In June 2012, Adrienne was welcomed into Te Hikoi Emaio – the Emmaus Journey (Luke 24:13-35) at the Josephite Retreat Centre, which is a spiritual 'marker' on the pathway towards final profession. Taking first vows in January 2014 in Sydney, Sr Adrienne began the 'Widen the Space of your Tent' (Isaiah 54) stage.
'I immersed myself in Josephite spirituality, customs, deepening my appreciation of Scripture and studied contemporary documents on vowed religious life. The journey has not been without its anxieties and struggles, but the overriding feeling has been one of deep inner joy and confidence that I am on the right path. I feel at home,' she said.
'Where in a previous era it was mainly young women and men entering religious life, these new pathways open up the possibility to many people in different stages and ages of life [of] being called to live as prophetic presences in the world.'
Adrienne has spent several years as a financial mentor in some of New Zealand's most impoverished communities. Currently based in Wellington, Adrienne's ministry is walking alongside, mentoring and advocating for people navigating complex government policy and financial systems that can create inequalities and injustices.
The post Life commitment in truth, peace and love first appeared on Archdiocese of Wellington.