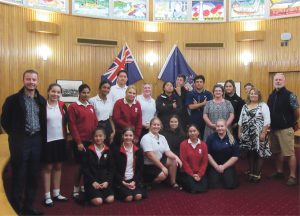 Seven students from Cullinane College, Whanganui, joined 10 John Paul College students visiting from Rotorua, 22 March, on a pilgrimage in to places of significance for Venerable Suzanne Aubert in Whanganui city.
It was Cullinane's first pōwhiri for manuhiri since the wharenui was opened last January.
Councillor Josh Chandulal-McKay, who is an Associate of Suzanne Aubert – Te Hunga Whai i nga Akoranga a Suzanne – greeted the young pilgrims at the Council Chambers. There they viewed the stained-glass window depicting Suzanne, which is part of a collection of significant people who have influenced the city.
They then went to to Hatrick's Wharf to hear about a baby who was left in a box on a paddle-steamer, simply marked for 'Mother Aubert, Jerusalem'. Suzanne camped at Pakaitore/Moutua gardens with Ngai Hau during the Land Court Hearings in the 1880s.
At Majestic Square in central Victoria Avenue once stood the church, presbytery and convent where Suzanne visited often during her 16 years while based in Hiruhārama-Jersualem.
Back at Cullinane College, the incident was told how Suzanne snatched her disabled orphan from the hospital in 1904 fearing he would become a medical experiment.
Upokongaro, 10 minutes along SH2, was the point where many important Māori men came to collect Suzanne and two Sisters of St Joseph on 4 July 1883 to take them to Jerusalem to revive the Māori Mission.
After a karakia, it was back in the school van bound for Hiruhārama-Jersualem.