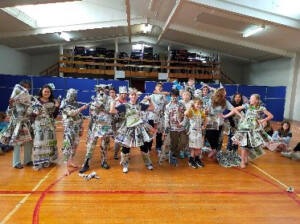 WelCom May 2023
Caritas Challenge is an annual event for schools and youth groups across New Zealand to raise awareness of social justice issues and the extreme challenges faced by people living in poverty. Participants take part in a fun, practical experience where for a limited time, and in a safe and small way they get to experience the hardships faced by people in their daily lives.
Four challenges provide the backdrop for this event. Young Catholics can either take part in one, a combination of, or all the challenges. In the process they get to 'Live It, Sweat It, Move It and Stop It'. This year all fundraising goes towards supporting communities in Fiji and every dollar raised will become $4 through matched funding!
Groups can hold a Caritas Challenge event at any time during the year. For more information and to be inspired watch the promo video at: youtube.com/watch?v=RwUa4GeQKNA or visit: caritas.org.nz/caritas-challenge
The post Caritas Challenge: 'Live It, Sweat It, Move It, Stop It' first appeared on Archdiocese of Wellington.